Ok, so this week has not gone as planned.  I had the 'not so pleasure' of getting sick.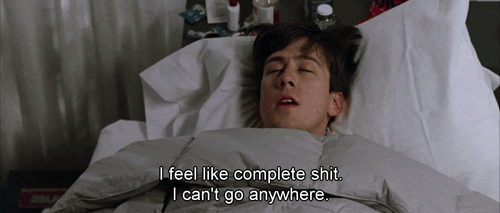 SOURCE: giphy.com
Let me tell you that when one is ill, remaining KETO is very difficult.
Think about when you get sick…. what are the things that make you feel better?
Chicken Noodle Soup
Toast
Soda Crackers
Juice
Tea with lemon and honey
Halls
NyQuil
All these items have carbs, carbs, carbs, with a side of carbs in them. So it was extremely difficult to stay on track.  What also happens when you are ill is that you lie around….and THINK a lot, which doesn't help the "feeling sorry for yourself" attitude that has developed.
So then I started to question…. is it worth staying in ketosis whilst ill?? I thought and thought about this and came to the conclusion that it was.  I suffered last week and shared on my blog about how getting back into ketosis after my sushi supper was so awful, and seriously it is NOT worth it again. No thanks…no way. I will just deal with this.
I had a lot of time to surf the net and found some great sites to support people living a KETO woe and getting sick. I found this blog post, from someone discussing similar issues to mine.
I also discovered bone broth.  Now let me tell you, it is the most fantastic discovery that I have made. I have made homemade soup before, but always seem to add a lot of "stuff" into the soup, which makes it not very KETO friendly. I then found this video, and decided to make it.
My broth ended up being devine, and seriously I sipped this stuff for several days while laying in bed.  While sipping, continuing to think about this bone broth, and where I could enjoy this within the city.  I have (prior to KETO) frequented PHOmilu in Regina, and wondered if their broth was KETO friendly.  Wondering, I made a phone call and asked  some questions:
How do you make your PHO broth?
Are there any added sugars or carbohydrates in your broth?
What are the main ingredients in your broth?
How long does your broth cook before it is served?
Do you sell just your broth (without any added noodles, or vegetables inside)?
I was very happy to receive all the KETO friendly answers to my questions.
I am starting to realize the importance of asking questions to meet my needs, and how lovely people truly are in giving information out. If ever you are in need of some delicious soup, or food in general, PHOmilu is where it's at. They have 2 locations, one in east Regina, near Superstore and Winners, the second location on Victoria Ave, very close to FreshAir Experience.
I am so happy that I made it through my sick week, and still remained in KETOSIS. Thanks for reading….until next week.